Balau decking is strong, heavy and very hard. It has a coarse texture with minimal distortion and a slight tendency to bow.
Balau is a dense hardwood with an interlocking grain and it is known for its strength and durability. This type of hardwood is a very popular choice for heavy-duty construction where there will likely be a high flow of foot traffic, such as; decking, industrial flooring and marine construction. Balau originates from Southeast Asia and you may also hear it referred to as its botanical name; Shorea laevis ridi. 
Balau Decking
When they're wanting to install heavy and strong timber hardwood decking in their garden, many homeowners are drawn to Balau because it features a beautiful mixture of rich colours. Commonly, Yellow Balau varies in shade from soft golden brown to pale reddish-brown and this colouring perfectly complements the natural surrounding landscape of any outdoor space. Due to the fact that Balau hardwood has quite a smooth and even texture, and very few knots, it provides a flawless and luxurious finish to any contemporary exterior decking too. 
This type of hardwood decking requires very minimal upkeep and it is naturally insect and rot-resistant, so it will remain aesthetically pleasing for many years to come. In fact, Balau decking is a Class 1 hardwood, meaning that it has a life span of 50 years plus. Balau hardwood also has minimal distortion and only a slight tendency to bow, preventing any worry in relation to natural warping over time. Its exceptional water resistance makes Balau hardwood ideal for decking that is being installed around a swimming pool or hot tub as well. 
Here at Vetraland Selective Timber, we supply Balau hardwood for decking, or other construction projects, that is 21 x 145mm and smooth on both sides. We also supply stainless steel screws which are essential for this type of hardwood decking too. For more information about our quality Balau decking, please feel free to contact our team on 020 8858 6441.
Pricing
We also supply Stainless Steel Screws for Hardwood decking.
All prices per linear metre
| | |
| --- | --- |
| 21mm x 145mm - Smooth both sides | |
Please note all prices are subject to VAT
Typical applications
Decking, marine construction, piling and heavy duty industrial flooring
Durability
Durable to very durable. Class1 - life span of 50 years plus
Working qualities
The timber machines well, but can severely blunt cutting edges
Botanical name
Shorea laevis ridi
Origin
Southeast Asia - East/West Malaysia and Indonesia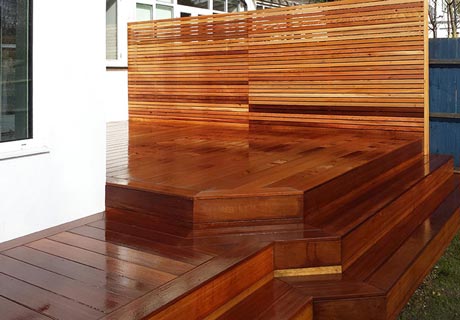 For further details on our Balau, please contact us on 020 8858 6441.